Happy Monday, folks. Time to get back in the groove after a fun weekend. I just remembered—my birthday is a month away! Well, it was a month away from yesterday, that is! It falls on a Wednesday this year so I'll be in Orlando so I guess I'll really celebrate it on the weekend before or after. Yay! I do love summer….
I like to start my week with a good run so I usually try to get outside every Monday morning early. Today I ran for about 30 minutes and if you can believe it, it was already soooo hot outside and it wasn't even 8:00 yet! I think it must have already been in the 80's! I had half a banana with almond butter before I went and when I came back I made some oatmeal with……………
WHEATBERRIES! oh, wheatberries where have you been all my life?! I got this idea from Kath's blog because her oatmeal always looks so delicious and if she liked the wheatberries I was sure that I would like them as well. Well, I was not disappointed and these will definitely be a regular addition to my oats from now on. I soaked 1/2 cup of them in 1.75 cups of water overnight last night, then I let them simmer this morning while I went on my run. They turned out chewy, nutty and delicious! I used 1/4 cup of them in my oats this morning (I only made 1/3 cup of oats to compensate). What a way to start a Monday! Thanks, Kath! I also added the other half of my banana, soymilk and almond butter….mmmmmmm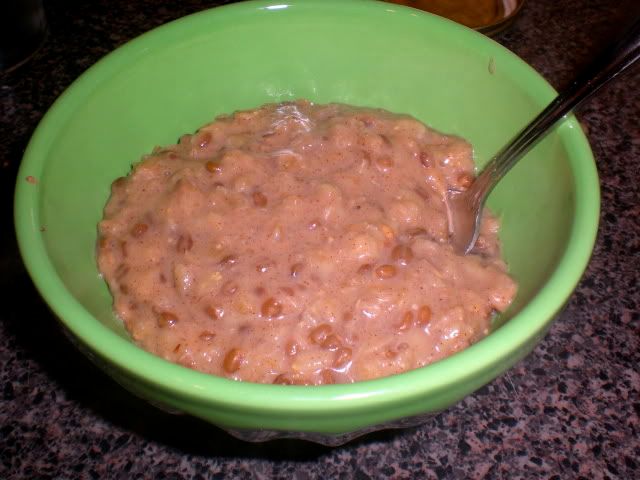 For lunch today I packed something special and different—SBITK's "chicken salad"! I had time to make this yesterday afternoon and I'm very glad I did because this stuff rocks. I used Lightlife "chicken" strips this time and no celery because I don't have any. I stuffed some in a whole wheat pita and packed an orange to go along with it. For later, I packed a pear and some cashews to snack on.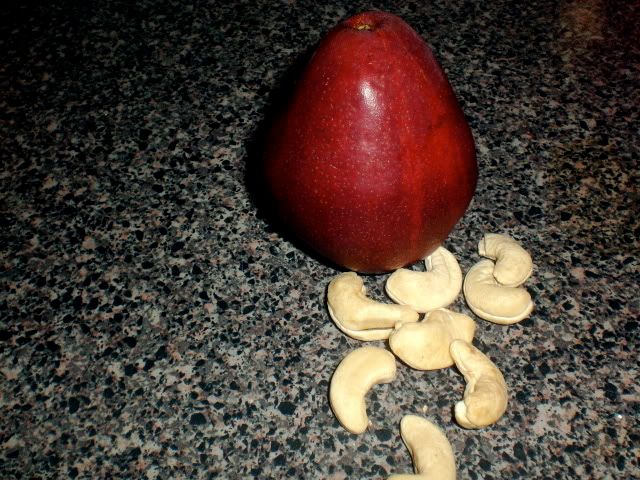 Happy Monday!