Hi guys,
Still working on the photo problem but I'm hoping to have it resolved by the end of today. I tried signing up for photo bucket and uploading pictures that way, but it wasn't working because instead of the photo uploading on my page, all you could see was the code. Talk about frustrating!!!
Anyways, I brought home THREE cakes with me last night!!!!! A carrot cake with cream cheese frosting, a banana cake with peanut butter cream cheese frosting and a Sacher Torte (chocolate cake with apricot jam). Ryan already had a slice of the carrot cake for a pre-breakfast snack….then I made him a healthy smoothie with soy milk, banana, peaches, almond butter and flax to compensate! Ryan is going to take the banana cake home to my mom tomorrow morning so my family can have it tomorrow for Mother's Day. Unfortunately I wont be in attendance because I am working an 8-hour shift at Roy's for their brunch (joy).

This morning for breakfast I had 2 HempPlus waffles with walnuts, banana and maple syrup. Plus a few sips of Ryan's smoothie ;). I think we might go to Cocoa Beach today but the surf isn't that good so we aren't 100% sure yet.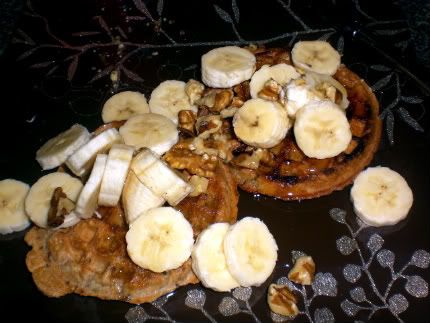 Enjoy your Saturday!