When I'm craving authentic Mexican food, I know where to look. Jennifer seems to be the Mexican food queen and her sweet potato and quinoa tacos do not fail to disappoint! I have been wanting to try out this recipe for weeks now because it incorporates two of my favorite things: quinoa and sweet potatoes! I just can't get enough! 🙂 I made a few adjustments to her recipe, wrapping mine up in a whole wheat tortilla instead of a tacoshell (I'm all out) and leaving out the serrano peppers. I just sauteed together 2 jalepinos, some red onion, garlic and red bell pepper—it was fantastic! Seriously spicy and seriously messy, I'm glad I made enough of this recipe to have as a quick dinner before I go to school tomorrow. As I said before, this week is going to be quite busy as I have to get to school 1 1/2 hours early everyday just to make up what I missed last week. That means rushing home from work, eating something FAST, then racing to school. I think I have it covered though with fast, healthy meals (and a little help from Amy's to boot!).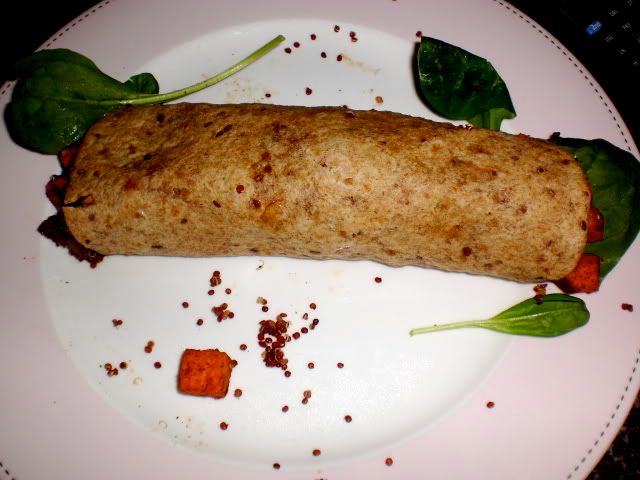 I actually got a lot done this afternoon. It was such a nice surprise to be cut early and have all afternoon and evening to get caught up on things. Also, I did something I've never done before. I practiced yoga on my own! I think I have come to a stage in my practice where I can do this and feel comfortable. I have been practicing, for those of you that don't know, for about six years now and was very close to getting my yoga teacher certification last summer. I would still love to do that and just might when I'm all done with school and have paid off my loans (it's an expensive certification!). Anyways, I rolled out my mat, put on my ipod and practiced for about 30 minutes. Not that long of a time but I got some great sun salutations in there and a bit of meditation at the end.
For dessert tonight I defrosted and reheated one of Lindsay's double chocolate muffins that I made a couple weeks ago. I'm such a bad recipe tester and haven't been so diligent lately because of my life in general but need to get back on it!!
Dexter likes the strings to my apron 🙂
I'm catching up on some emails/blog comments along with studying for my make-up test tomorrow at school but hopefully will be able to get in bed early and read soon!