Ryan, don't read this!!! (He HATES just the thought of mushrooms!)
Hehe 😉
I just found a whole new level to the VwaV Mushroom Sauce that I made the other night—served on top of a comforting dish of whole wheat couscous and a chickpea cutlet. This was amazing…rich, creamy and super comforting. Luckily I had a frozen chickpea cutlet in the freezer that I just heated back up in the oven at 350 for 20 minutes and all I did was pour the reheated sauce on and dig in! Delicious. This sauce took a little time to make the other night but it was definitely worth it because you can use it in so many ways. I'm thinking I'll try it over pasta for a creamy mushroom "alfredo" sauce later in the week. I also made my usual salad with carrots, romaine and cucumber with Woodstock dressing.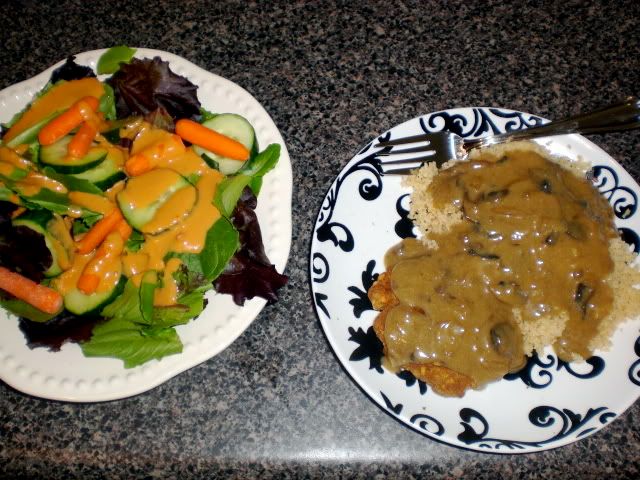 Not sure what tonight is bringing—I know we are torching our brulees and unmolding our creme caramels but I believe we are also making some bread pudding and one other thing as well. I guess it will just be a surprise!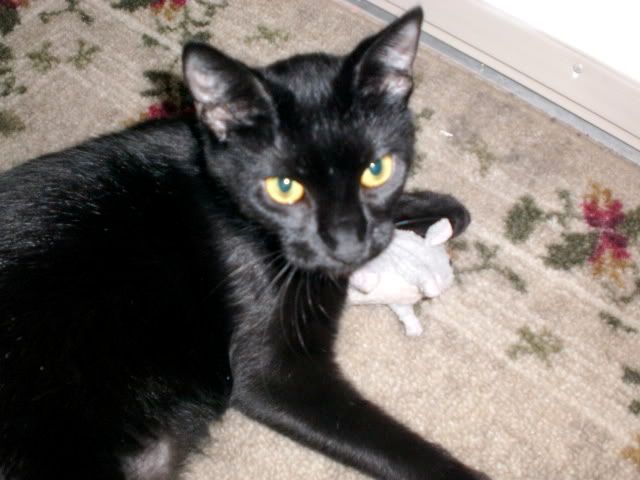 I can't refuse Lindsay's request for more Dexter photos. Ain't he cute with his little mouse?! He's guarding it from me!