Wow, I am super lethargic today. It just feels soooo good to lay on the couch and read. I had to force myself to go on an outing to escape from the apartment so I chose to wander around Barnes and Noble for awhile and read trashy magazines. Am I the only one that was shocked to find out that little Ashlee Simpson is now pregnant and engaged?! I know I sort of live under a rock, but come on. I try not to buy those magazines because its a waste of money, so I opt to go and sit around in the comfy chairs at B&N and read all about it.
Anyways! I was not feeling the gym again today so I pulled out an ancient MTV Pilates dvd that I've had since I was 16 and did that instead. I think my abs will be sore tomorrow—it was actually a pretty good core workout! After I did that, I made a wrapped lunch. Since I'm just about out of food but not going to the store til Monday since I'm going away Saturday morning, all I really have left veggie-wise are sweet potatoes! So, I heated up a sweet potato, cut it into chunks and combined it with 1/2 cup of leftover black eyed peas that I mixed with some Carolina bbq sauce. I also added 1/4 of an avocado and some red onion. It was actually pretty tasty for being thrown together on a whim like that! I like the combo of black eyed peas and sweet potatoes. I might have a new thing going here! I also had a small pear with my wrap.
So, this morning after I made breakfast I decided to bake cookies. I made Dreena's Oatmeal Raisin cookies (from ED&BV) but instead of raisins I put chocolate chips in. But…..when they were in the oven I realized I forgot to add the 1/4 cup of sugar! haha! See—I have basically paid my life away to go to culinary school and I still forget to add the sugar to my cookies. I tried a little bit of one this morning though and they still taste pretty good. I guess they are a healthier snack now! Haha!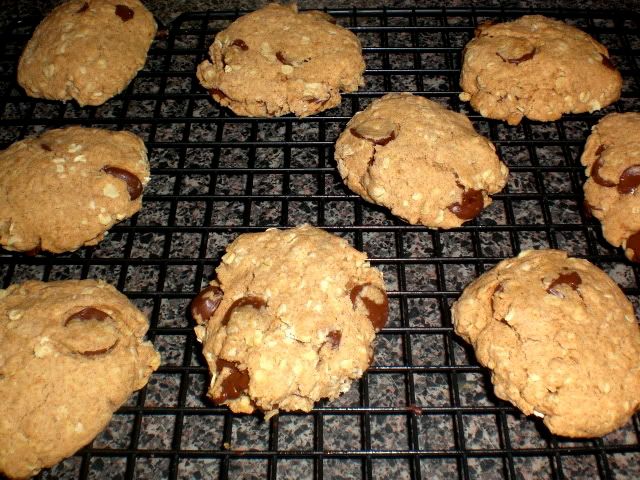 For all those wondering, I'm reading Jennifer Weiner's new book, "Certain Girls". I liked "Good in Bed" and this is sort of like a sequel. Pretty good for just lounge reading!