I was a sleepy girl this morning! I think I would have slept all morning if Ryan hadn't called at 7:45 and woken me up out of a deep dream. It was one of those moments where you hear the phone ring but you are just so confused about it because you are fast asleep. Strange. I think it has something to do with the weather. It's raining in Tampa and is just gray and cloudy and gross outside here. A good day for me to relax in my pjs in the morning because I don't have to work! So, that's exactly what I did. I woke up, made breakfast—2 HempPlus waffles with walnuts, half a banana and half a mango with maple syrup—and proceeded to go back to my bed and read for an hour with my coffee. Nice.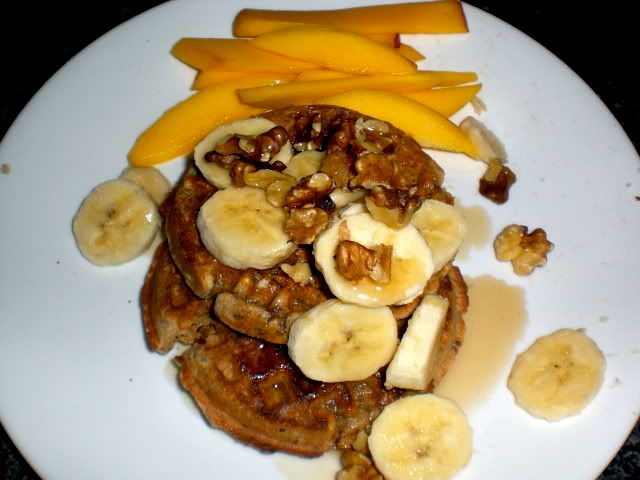 I really don't have any plans today. I'm not grocery shopping because I'm going home on Saturday morning for the long holiday weekend and am coming back Monday afternoon so I'll just go then for the week. I think I might do a pilates dvd I found that I had back in high school later on today…and read more! I don't have enough days like this…I'm such a dork.
Last night in school we made cheesecake, rice pudding and panna cotta. Unfortunately the cheesecake ended up being no good because we had a nasty mixer that was literally leaking aluminum and, therefore, we had nasty aluminum streaks in our finished cheesecake. Really not something I want to serve to my friends. No thanks. In this class everything we make has to chill in the cooler at school overnight before we take it home so I will be posting photos of items as I take them home, not as I prepare them. So, here are photos of my finished cherry clafoutis from the other night, as well as bread pudding.