Ryan and I splurged a little tonight and went out for a really nice dinner at Amura–my favorite sushi/Japanese steakhouse here in Orlando. I've been a bunch of times to get their sushi but tonight was the first time we explored the other side of the restaurant, the Hibachi grill!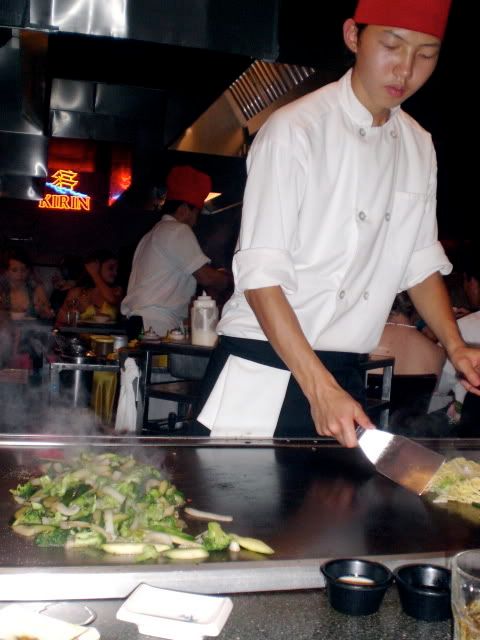 If any of yall have ever been to a Japanese steakhouse, I'm sure you know—-they give you SO much food!!!! You always walk away stuffed but its so worth it because it's amazing. I started my meal with a fab. watermelon martini (!!) and a seaweed salad. Their seaweed salad is seriously the best I've ever had. It never disappoints. Ryan couldn't resist and ordered a sushi roll to start along with his favorite, a rum and coke.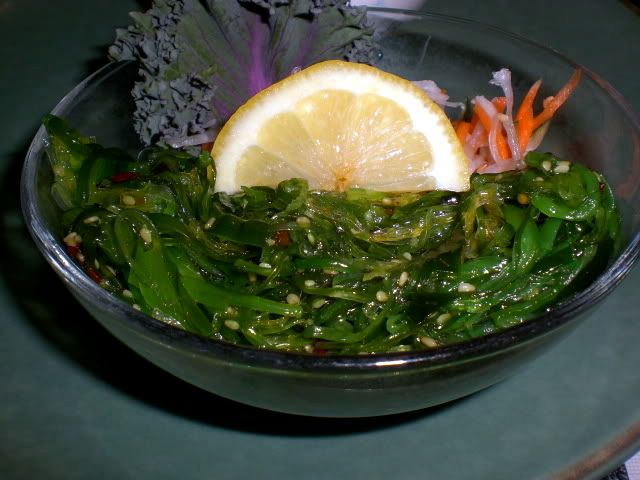 For dinner, I decided on the Soba Noodles with Vegetables. Yum! They actually cooked the noodles right on the grill in front of us and combined them with hot chili sauce, spices and garlic…and a ton of stir fried veggies! My portion was absolutely huge and I could only eat about half of what you see on the plate. I think it wasn't the best idea to snack on hummus and crackers while getting ready tonight because I wish I could have eaten more….it was that good!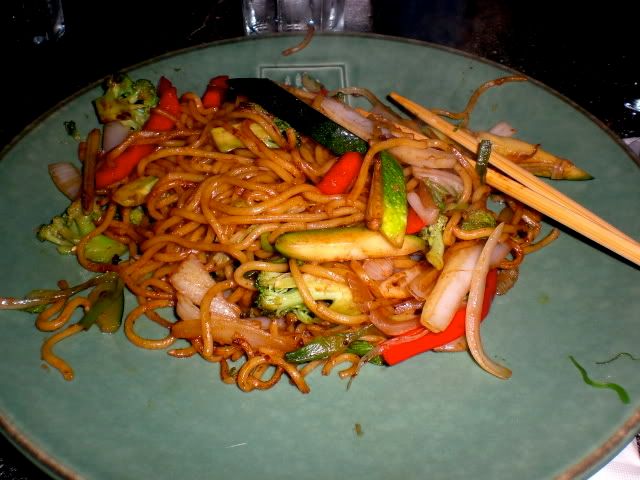 No dessert. We are wayyy too stuffed tonight. Ryan ordered lobster, scallops, shrimp and steak!! We felt like a splurge :). It was funny because it was a small room we were in and everyone else in their were high school kids on their way to prom. We shared some laughs with them and it made for fun conversation. Good times.
Ahhhh tomorrow is my day of death. You really don't look forward to holidays when you work in the hospitality industry. It's quite sad actually. I have to be at work at 9:30 and we have over 300 reservations for brunch. I'll probably work til 5 or 5:30….no break…no food. I will be bringing snacks I can sneak during a second of down time but that's it. Oh well, at least I'll be making tips.
We are off to bed early. Have a great night!
oh! and for those worried—-I tan VERY easy and get quite dark. I never forget to wear sunscreen though, so no worries. I have always been "that girl" reminding everyone else to put on their SPF. I've lived in South Florida for most of my life so I'm pretty accustomed to the sun. I've said before, everyday rain or shine, I wear an spf of 30 on my face….even if I don't leave the house. And when I'm in the sun I wear 15 or 30. Always. You can definitely still get a tan through your sunscreen—I'm proof of that! 🙂