Happy Friday!
Can I please just say that I am obsessed with Indian food?! I had one of the BEST meals of my life last night! We didn't end up going to the restaurant that you all say the menu for—we decided it was too expensive and we opted instead for a "hole in the wall" that got 5 star reviews across the board. The restaurant is called Woodlands, and it is a 100% vegetarian Indian restaurant! How cool!I was pretty much in heaven!
We started off by ordering some Aloo Paratha (basically hot bread stuffed with potatoes) for the table. Oh.my.god—this stuff was absolutely amazing and addicting. I had a slice before my meal came and two more slices at 10:00 at school! (we brought the leftovers with us and put it in the fridge)!!!! We also ordered the Assorted Appetizers and I got to try a bit of samosa, which was amazing. I tried not to eat too much before my meal so I just picked at this and that. The samosa was my favorite!
For my meal, I ordered Baigan Bartha—eggplant mashed with onions and tomatoes and cooked with Indian spices. This was fantastic. I would have never known it was eggplant because it was just so smooth and creamy. I ate it over some of the white rice (not pictured) that it was served with and savored every bite.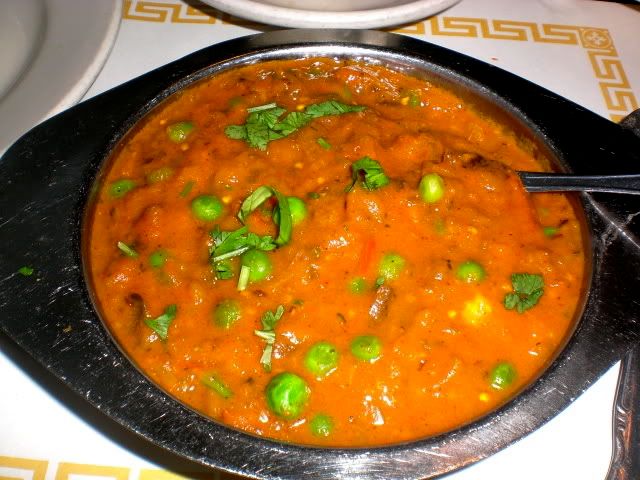 In the end I totally stuffed myself—past the feeling of being full…I ate most of mine, that bread, rice, some appetizers and tried some of everyone else's meal. It's just so hard when its all so good! I got on my roommate's scale this morning and saw that I had gained three pounds (which I'm sure is just me being bloated and it will level out soon….haha). Maybe snacking on that potato quesadilla thing wasn't such a good idea at 10:00 at night…and chocolate chips from school. Anyways, I got up this morning and ran for 40 minutes then ate a good breakfast of Optimum Power cereal. I was going to bring leftovers from last night to work for lunch, but honestly, I ate so much of everything last night that I need a little break. I packed a hummus wrap with spinach and cucumbers, a pear and all natural peanut butter filled pretzels for a snack later.
Last night I started baking my chocolate-lavender cake! Everything was going really well until I tried to get the cake out of the cake pan. Half of it stuck in!!!!!! I thought I could redeem it when I cut it into layers but ended up getting really frustrated and smashing the whole cake with my fist then throwing it in the trash. Then, I took a deep breath, and started completely over–baking a whole new cake. I had the time and this was turned out better, with no cracks. I made my lavender icing, my chocolate buttercream and my lavender simple syrup and tonight I will assemble it all and get graded!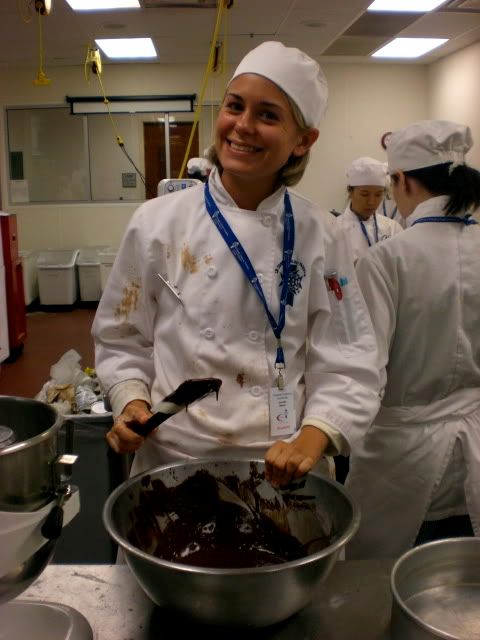 TGIF!