I'm a big fan of peanut sauces. They incorporate two things that I love in this world: Asian food and peanut butter. How can you even get better?! When I first was flipping through the pages of Vegan with a Vengeance at the bookstore I came across the recipe for "Cold Udon Noodles with Peanut Sauce and Seitan" and I knew I had to buy the book so I could make this. I love udon noodles and I love peanut sauce but had never tried seitan. Well, I just finished a plate of this and can definitely say it was worth the cost of the book! The peanut sauce is highly addictive, with hot chili sauce, garlic, ginger, peanut butter, maple syrup and soy sauce in it and it goes perfectly over the noodles. This sauce would also be great served over soba noodles, sans the seitan. The seitan makes for a much heartier meal, one that I need before I go into 5 hours of kitchen production tonight!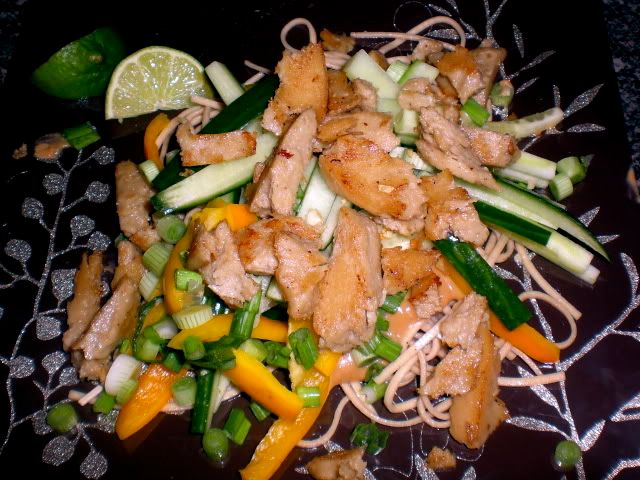 I'm pretty stuffed right now but I'm sure come 8:00 I'll be ready for a snack so I'm bringing some Annie's Cinnamon Bunnies with me. Hopefully it will be an early night considering all we have to do is decorate our one cake then deep clean the classroom but you never know. Next three weeks I'm going to Custards class where I'll be slaving away on creme brulees and mousses. I'm just thankful to be moving on at this point because there were definitely some moments during these three weeks where I wasn't sure I would be able to, considering I missed more than the allowed max. of days. Luckily I've made everything up and have a pretty cool chef instructor that was very understanding.
Have a great Friday! Wish me luck on my cake decorating—photos in the am!