Yikes! Where has my morning gone?! It's only 11:30 and I need a NAP! Last night was a very busy night in school. I decorated two cakes, each of which were very fussy and took awhile to put together. The first, which is the tall layer cake is called a Dobos Torte and consists of 7 layers of almond sponge cake with 6 layers of chocolate buttercream. On the top it is decorated with cake slices that were drizzled with caramel. It's a very fussy, over the top cake! The short thin cake is called a Brasilia. It is 3 thin layers of hazelnut sponge with chocolate buttercream and decorated with nougatine, which is basically the same thing as peanut brittle—but it uses almonds. About the nougatine……ummm yeah, I stuffed my face. This stuff was SOOO addicting!! It's just a combination of sugar, water, glucose and almonds—brought up to a caramel state and then poured out and cooled. If you like peanut brittle, you would like this. At the end of the night I felt a little sick from all the sugar I consumed, but it was so good!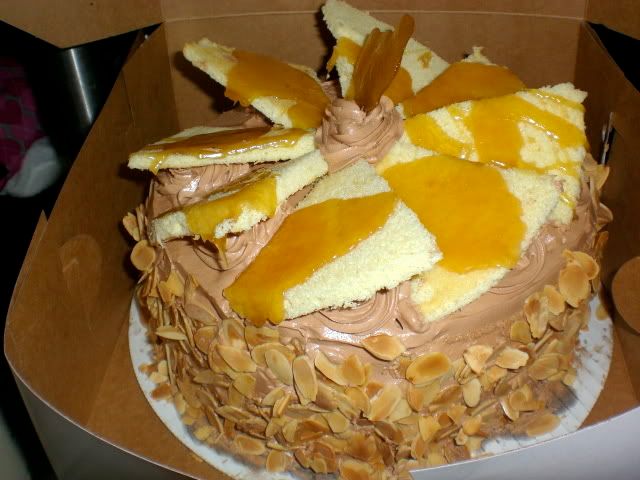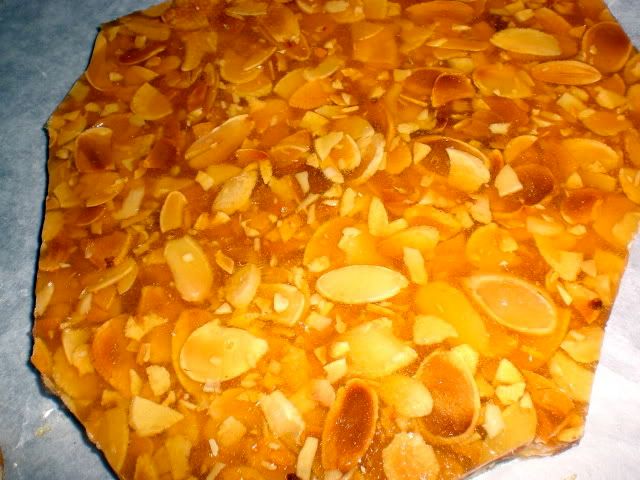 I got home rather late last night then hung out with my roommate awhile so I didn't get to bed before 1:00. Then…I woke up at 7:00 so I could get to the farmer's market and run errands. I had some quick toast with almond butter, jam and banana before I went. I found lots of great produce at the market, including peaches, which I haven't had yet this season and are so cute, sweet and small! After the market, I ran some errands and went to Whole Foods where I got some other stuff that I needed aside from produce. You seriously save so much $$ by shopping at the farmer's market. I only spent about 10 dollars there and got ALL that produce you see in the photo. Amazing!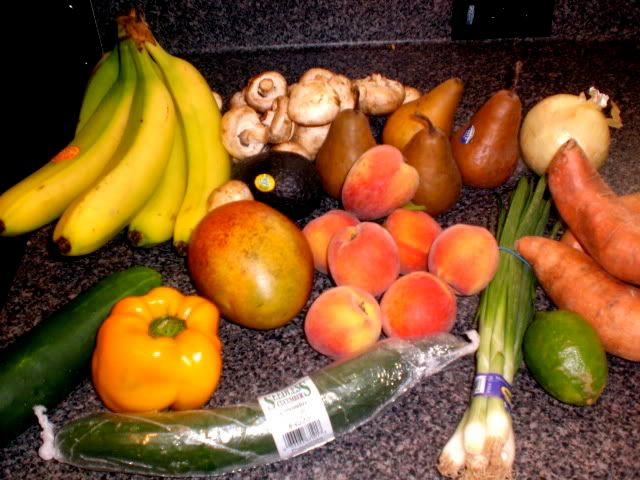 I made an early lunch after I got home. I found "fakin bacon" at the store today and was super excited because I've been wanting to try this for awhile now! I heated up two strips (in a cast iron skillet sprayed with cooking spray) and made a sandwich with about 1.5 tbsp hummus, the "bacon", and some spinach. I had two of the small peaches as well. YUM! This was a fantastic combo! I really really enjoyed this sandwich and will definitely be making more of these to come. The flavor profile was killer.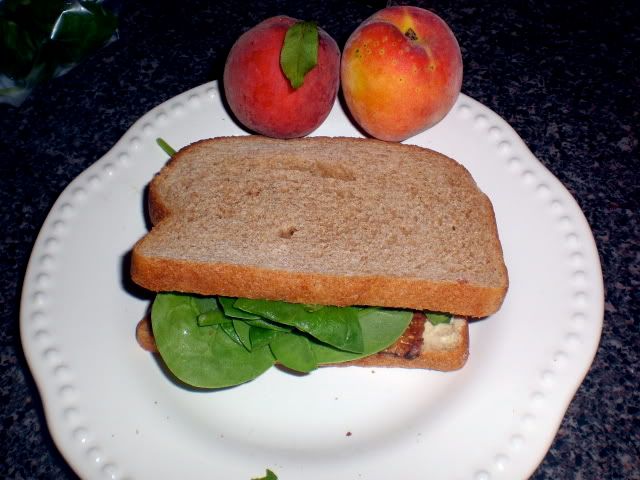 Okay…I'm going to take a nap now! I think I going out to dinner with a few people from my class tonight before school. We are going out for Indian food, which I have never done before and have no idea what to order. Any suggestions???!!