I seem to be having some issues putting up photos on the blog. I don't know what's going on…it will let me drag the photo on and have a thumbnail of it but that's not what I want because then when I expand the thumbnail it will be all blurry. Is anyone familiar with WordPress and can help? It lets me upload pictures but then there's no place to click to send it to the page. Very odd. I've never seen this before and I am so not a computer whiz. Hopefully I can get it fixed soon though!!
This morning I woke up and got my body back on schedule by eating half a banana with almond butter and hitting the gym for a 30 minute upper body workout. When I got home I tried the new cereal I got from the store:
It's called Nature's Path Optimum Power. I was very skeptical at first because it sort of resembles rabbit food and normally cold cereal (unless its Ezekiel) does not fill me up at all. However, this stuff was great! For looking like rabbit pellets it really tasted good–it needed more blueberries, but other than that it was great. Very crunchy and sweet…and 9 grams of protein per cup, which is pretty darn good for a cold cereal! I had a big bowl (probably 1.5-2 cups) with soymilk and the other half of my banana and I feel quite full and satisfied. Yay! I love finding new breakfast foods!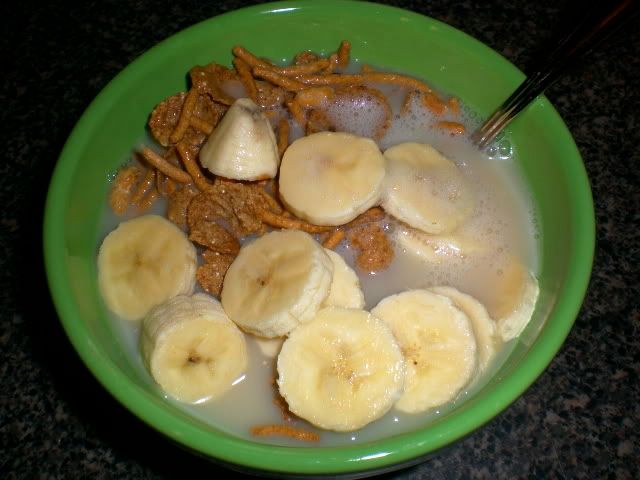 For lunch today I packed a tofurky sandwich with honey mustard and spinach on Rudi's honey sweet organic bread. I also packed a small baggie of carrot sticks, an apple, and a container of peanut butter puffins to snack on later.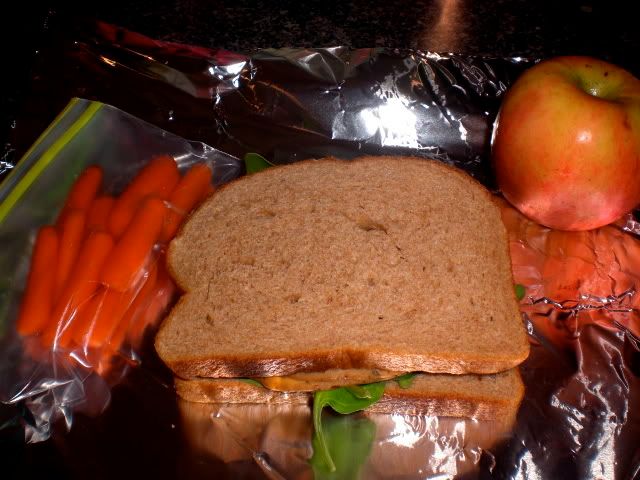 Last night in school went 100% better than I thought. My chef instructor was really really cool about me missing a few days and was more concerned with how my grandparents were doing. He told me we can work out a game plan today for how I will make up the work, but its not a big deal at all. He told me not to stress about it! What a relief!
Last night we also baked everyone's favorite: Carrot Cake. Seriously, I've had requests for this carrot cake from day one from the guys I work with. Apparently its pretty awesome. It seemed pretty average to me, with no raisins or nuts or coconut….but its definitely the most popular thing we bake in the class! Tonight we will make cream cheese frosting and marzipan carrots and decorate it. We also baked a banana cake that we will be making a peanut butter cream cheese frosting (and marzipan bananas) for tonight. Fun!! I'm bummed though that I will be bringing home THREE cakes tonight and can't bring them home with me to give to my family for mother's day. 🙁 On the good note though, Ryan is coming here tonight for the weekend. We are hoping for a beach day tomorrow!!
Sorry about the photos! If anyone knows anything about WordPress (because I don't!) I would appreciate help!